Since children at different ages have different learning patterns, the value based pedagogical practices for classes Nursery to II comprise of generating awareness and sensitivity about Ecology & Culture of our own country and that of other nations. In classes III to V, focus is on developing their language and expression. Going forward in classes VI to VIII they are provided with a platform to absorb, reflect and express through integration of Creative & Performing Arts and YOGA.
Innovative Skill & Value based Pedagogical Practices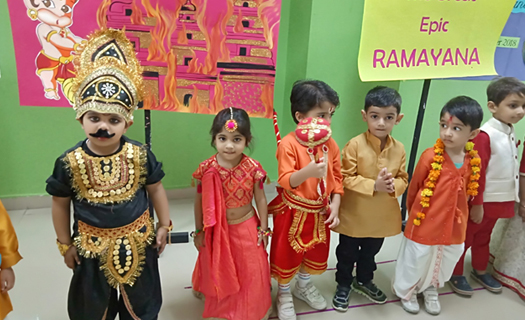 ECVS - Ecology, Culture, Values & Skills Programme Classes Nursery to II
Rhymes, Songs, hands-on activities, role plays, enactments and story-telling centering around key components of ECVS.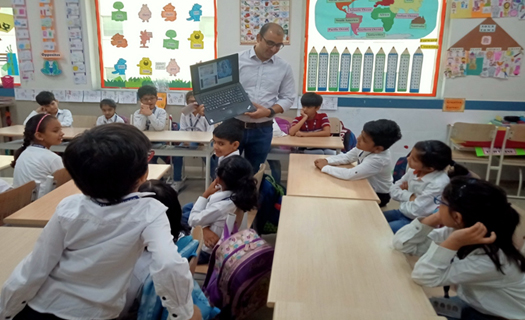 VASP – Value Addition by School Parents Classes Nursery to II
Schools in collaboration with parents work together supporting the very cause of value addition in our children through activities, sessions, games and interactions.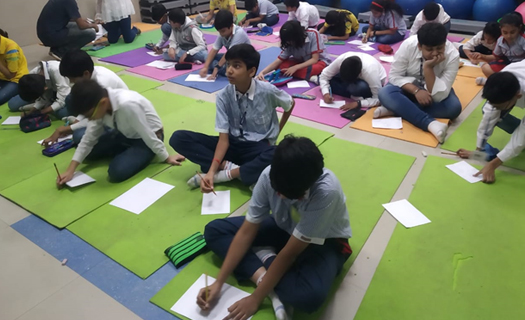 VLEP - Values & Language Enhancement Programme Classes III to V
Making children learn values through special language activities like word game, vocabulary game, comprehensions, story-telling, value-based children's films, presentations, self reflecting activities, discussions and group work.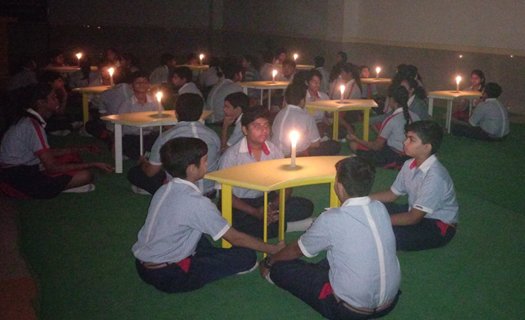 VVAP – Values & Visual Arts Programme Classes VI to VIII
Values and skills integrated with Visual Arts and Yoga sessions is an experiential and participatory approach pedagogical practice through which children introspect; express views, ask questions, seek clarity and learn from a variety of thought provoking activities.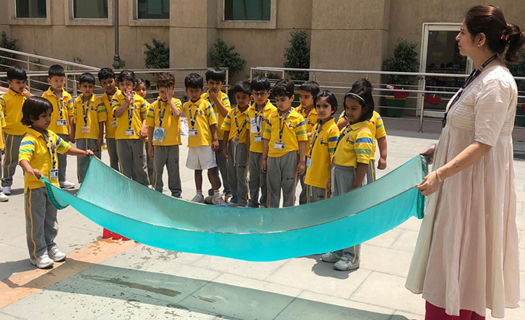 Science | Technology | Engineering | Maths STEM :NURSERY TO XII
An Innovative Pedagogical Practice enabling students to explore the interconnectivity of Science, Technology, Engineering and Mathematics through real-life situations. STEM occupations are growing exponentially. Goenkans are made future ready as most future jobs require conceptual understanding of Mathematics and Science.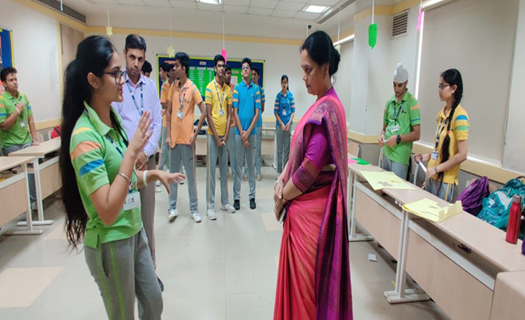 Culture | Languages |arts | Social Issues |social Science CLASS : III TO XII
Amalgamates Culture, Languages, Arts, Social issues, Social Science and Values into a comprehensive subject week. Encompassing all subjects, the objective is to understand the interdependence of each component through group discussions and project presentations.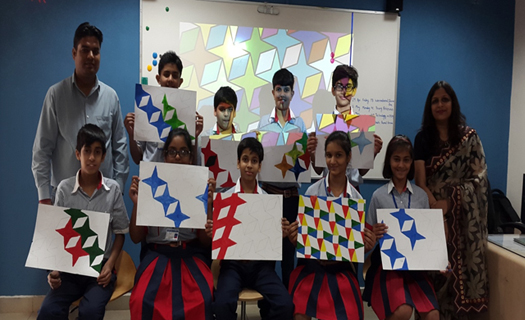 Integrated Creative Learning Programme ICLP : VIII
Integrates the Scholastic with the Co scholastic and makes the learning of Science, Mathematics and Literature more application-based, effective & experiential through integration of the two domains
GRACIOUS GOENKAN NUR TO XII
Students are encouraged to self evaluate , reflect and think abouut their work habits, behaviour and value based learning. This helps them believe in the power of goodness and continue being on the correct path and stay connected to our roots.
The students are awarded a Gracious Goenkan certificate , recognising them for being good, helpful, kind and for the values the have imbibed
THE GOENKAN MUN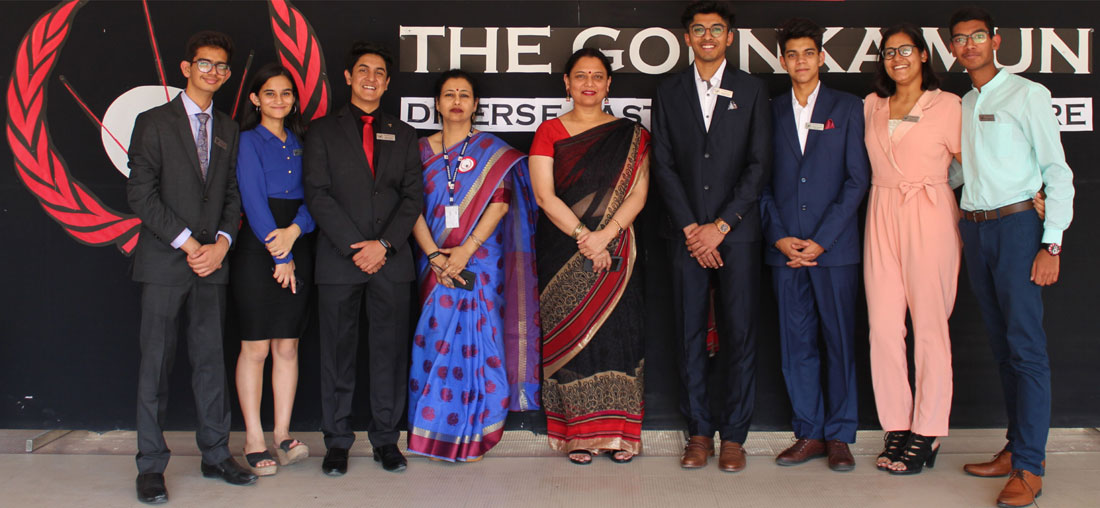 Model United Nations is an activity that encompasses elements of traditional debating along with global and more intensive research, as it relates to real world issues discussed at the United Nations. This activity has become a crucial co-scholastic activity that broadens students' horizons. In MUN's, students participate as delegates representing different nations and put forth views on this basis. It serves to increase students' overall international awareness on crucial issues that are likely to be discussed on a global platform such as the United Nations, as well as to increase their skills with debating and research. It makes our student's effective communicators who get to develop their confidence and speaking skills through this activity. These skills are transferable from a competitive MUN context, to other engagements which students are likely to encounter in their academic and professional life, such as giving interviews or taking part in group discussions. It helps to broaden their horizon and make them better human beings and leaders. The topics are so divergent that it enhances the student's sensitization to the world that they live in. It helps to broaden their analytical and evaluative skills.
Goenkans have shown a keen interest in MUN's. Each year, we witness an enthusiastic participation by our students. It's a matter of pride that apart from hosting The Goenka Model United Nations Conference, our students have been winning accolades for each MUN they participate in. Their conviction reaffirms our belief in the power of positive and persuasive dialogue.
Teachers' Day Celebrations
'A teacher is a magnet that activates the magnets of curiosity, wisdom and knowledge.'
Teachers' Day is a day which both teachers and students look forward to. It is not just the commemoration of the birth date of one of the finest teachers of India, Dr. Sarvapalli Radhakrishnan, but is also a celebration of the teaching profession itself. After the students warmly greet their teachers, they bring pleasant surprises for them by way class decorations and class parties. Each and every class is decorated with balloons, buntings and special messages written on the boards to express their love for their teachers. It is rightly said, "To the world you may be just a teacher but to your students you are a hero."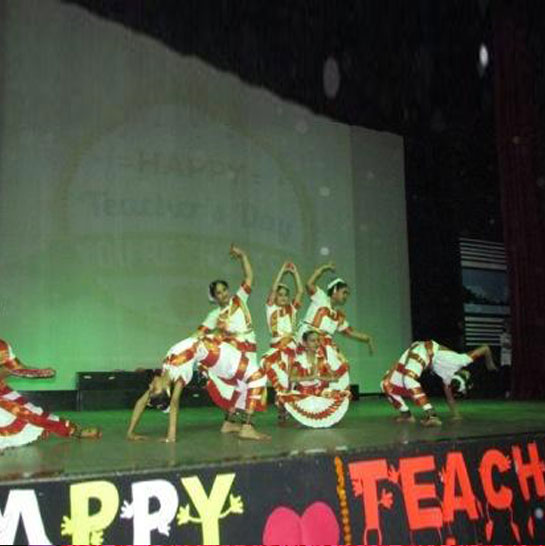 To pay gratitude towards the quintessential roles of the Goenkan teachers in spearheading a positive change in their lives, the students of Grade XII put up a heart-warming cultural programme for the school principal and the teachers that include dance preformaces, medley of songs, bollywood based quizzes, short videos made by students and other engaging activities. The students also acknowledge the special attributes of each and every teacher by giving them customized titles like 'English Wizard', 'Maths Genius', 'Dancing Diva', 'Nimble Fingers' to name a few. The cultural program conveys the entire gamut of emotions that the Goenkan students have for their teachers – love, respect, trust and faith.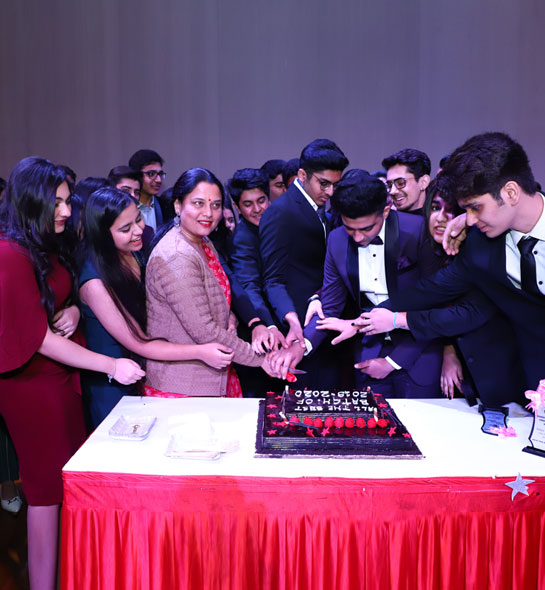 FAREWELL
Showers of blessings, ceremonial good-byes, fond wishes, inspiring words, nostalgic moments and expressions of gratitude are the special ingredients that make up the Citation and Farewell Ceremony held each academic year for Grade XII students in GDGPS, Secs-48. Nostalgia engulfs the out-going batch when they walk through the beautifully decorated corridors and class-rooms bedecked with adieu and au revoir messages prepared by their junior students of Grade XI. The stately Citation Ceremony, sculpted out of love, is a sincere acknowledgement of each student's unique personality. It encapsulates in poignant words the milestones and best moments of their school saga. A significant part of the ceremony is the handing over of the diya of knowledge by Grade XII students to their immediate juniors of Grade XI. It signifies that not only had they passed on the flame of knowledge to their juniors but also bestowed the baton of responsibility upon them. The class teachers read aloud the citations of each and every student.
An informal Valedictory Function is hosted by the Grade XI students in the afternoon after the lunch. Standup comedy, sparkling spoofing and well-coordinated dance performances on a medley of foot-tapping numbers are some of the high points of the evening's party. The witty titles given to each student of Grade XII along with the special awards such as Pride of Goenka, Goenka in Vogue, Face of Goenka, Ms and Mr Popular and Ms and Mr Goenka are the coup de grace of the farewell party. The students of passing out batch express their gratitude to the Principal, Headmistresses, their teachers and school for building their characters and nurturing their abilities.
Connect
Connect is another unique initiative of GDGPS Sec-48. It is a part of the school culture that celebrates and thrives on its strong connections with the faculty members and their families. It is the school management's special acknowledgement of the pivotal role played by the families and spouses of their teachers that gives CONNECT its special dimensions, dynamics and soul. Through Connect, conceptualized in the first year of school's inception, the school celebrates, confirms and cherishes the connection between the Goenkan fraternity and the families of the entire staff. All the teachers and their families are smilingly greeted by the Principal and the Headmistresses followed by performances by a few teachers and engaging sessions like singing, dancing, group games, interactive & bonding time activities in the school auditorium. After the engaging activities, principal and incharges mingle with the staff and their families over a sumptuous dinner, thus creating a fresh repository of moments of togetherness.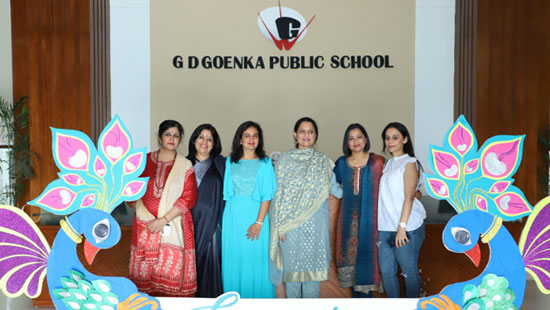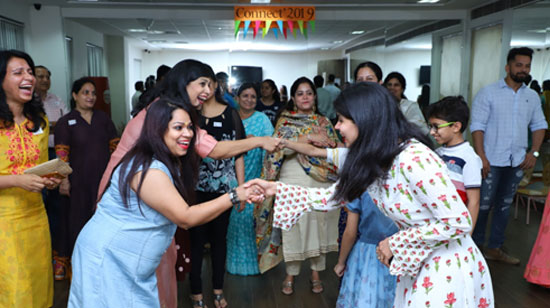 Venice

Venice

Venice

Venice

Venice

Venice